ICYMI: Documents Confirm Joe Biden was his Family's "Only Asset" and "The Brand"
Over 700 pages of documents showing President Biden was not only aware of his son's foreign activities, but that he was the only thing Hunter was selling, were released on Wednesday by the Ways and Means Committee.
Hunter Biden considered his father, Joe Biden, to be his family's "only asset" and "the brand" that he was selling access to around the world. In other words, Joe Biden was the Biden family business. Hunter Biden made that point clear in a WhatsApp message from 2017 revealed as part of the additional documents provided to the Committee from IRS whistleblowers.
This message, along with many others in the newly released materials, provide additional evidence related to the long pattern of behavior House Republicans have uncovered dating back to at least 2014. This evidence we have uncovered shows the Biden influence peddling scheme began while Joe Biden was Vice President, if not even earlier, and continued through his time out of public office. That scheme, or its consequences, may be continuing to this day.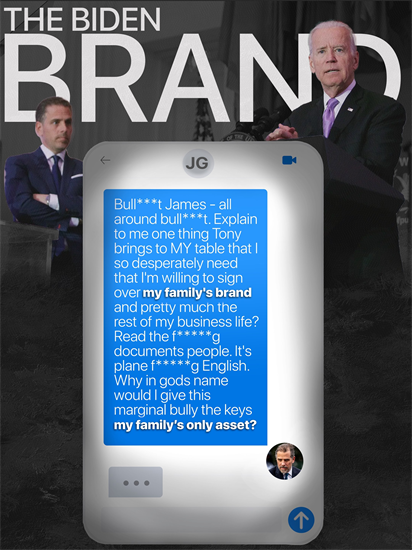 ​
As Chairman Smith said last week, "It is clear that then-Vice President Joe Biden's political power and influence was quote 'the brand' that Hunter Biden was selling all over the world. Even more alarming, the Biden Family foreign influence peddling operation suggests an effort to sway U.S. policy decisions."
In addition to the WhatsApp message, IRS investigators provided the Ways and Means Committee with worksheets connecting Hunter Biden's business activities to official government activity during his father's tenure as Vice President of the United States. These worksheets, compiled as part of their investigation, clearly detail numerous in-person meetings and phone calls where Joe Biden interacted with his son's business associates, as well as taxpayer-funded travel on Air Force Two with Hunter Biden and his business partners.
Read the worksheets here.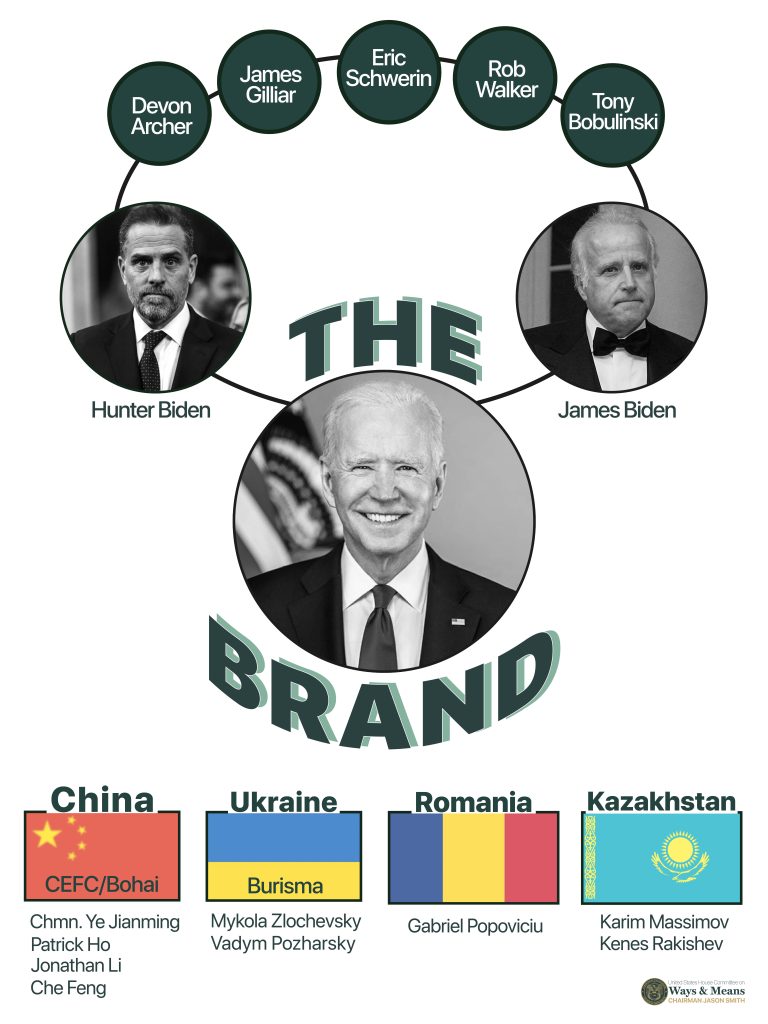 "The very existence of this file makes it abundantly clear that IRS investigators were concerned there was in fact a connection between Hunter Biden's global influence peddling, Joe Biden, and official U.S. government activity," said Chairman Smith.
​